You will be picked up from your Hotel at 09.00 am to Visit various attractions of Rajkot City starting with a visit to Rajkot Zoological Park (Closed on Friday) situated at Pradhyuman Park on the banks of Lalapari Lake. Among other animals, this Zoo has rare White Tiger, pair of African Cheetah and of course lots of Asiatic Lions. One can also hire Electric Buggy Cart to visit various parts of the Zoo.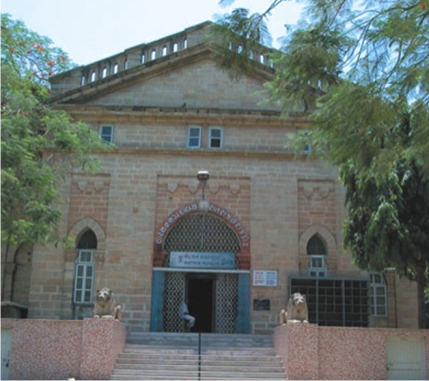 Latter, proceed to visit The Watson Museum, (Closed on Sunday and 2nd-4th Saturdays and Govt. public holidays) Established in the year 1888 and situated in Jubilee Garden. The same is dedicated to British Colonel James Watson who as a Political Agent of Saurashtra and is regarded as one of the finest museums of the region. It has a remarkable collection of ancient and traditional artifacts and cultural heritage of Saurashtra. The exhibits displayed are objects of Colonial period including huge marble Statue of Queen Victoria. It also exhibits tribal costumes, silverware, old coins, temple statues and 13th century carvings.
The museum also has pride possession of a large number of artifacts from Harappan Civilization, Indus Valley and the period of Mohenjodaro. Museum is also known for its collection rare books which provides a view of socio-cultural aspects and traditions of Saurashtra region. Also on display are Sculptures, paintings and manuscripts, textiles, inscriptions, coins, anthropology, folk embroidery, handicrafts, musical instruments, wood work, natural history and rocks and minerals.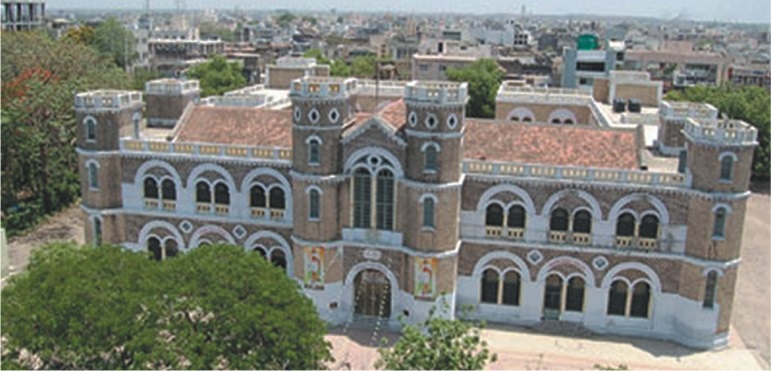 Further proceed to nearby Mahatma Gandhi High School which was also known as Alfred High School was established by the British in the year 1885 and is one of the oldest High School in India. The Building of this School has been built in Gothic Norman style of Architecture and the School was most popular of its high standard of education system. As Mahatma Gandhi himself has been an alumnus of this School, the name of the School was changed to the present one by the State Administration. It was at this School where Mahatma Gandhi misspelled the word "kettle".
A High School of heritage value where Gandhiji studied here and completed his matriculation and If all goes as per plan, the 162-year-old School in where Mahatma Gandhi studied for seven years, would house a world-class museum depicting the life of Father of the Nation.
Latter proceed towards old Rajkot Town towards "Kaba Gandhi No Delo" (Closed on Sunday) was the ancestral home of Mahatma Gandhi. It is this place where Gandhiji stayed during his early years of life at Rajkot when he was six years old and stayed for long time with his wife, Kasturba. Karamchand Uttamchand Gandhi also known as Kaba Gandhi was Mahatma Gandhi's father and the place draws its name from him. The house is of old and traditional architectural style and now the same has been converted into a Museum called "Gandhi Smriti" and contains photographs, crucial objects and belongings of the 'father of the nation', Mahatma Gandhi. An NGO is also running a Center for young girls to learn embroidery and sewing for self sufficiency.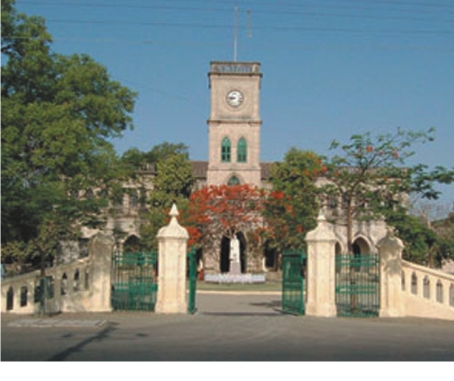 Proceed further for panoramic visit of The Rajkumar College of Rajkot which is one of the oldest educational establishments of Rajkot city. The main purpose of establishment of this School for education of princes from Royal Families of Kathiawar in the year 1868 and was made a Public School in 1938.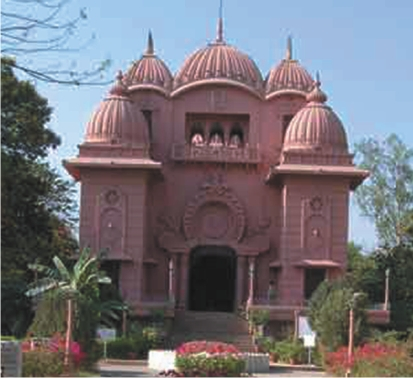 Further visit The Ramkrishna Ashramwhich is a "math" and established in the year 1926 and illustrates the life and ideals of Ramakrishna also known as "Paramahamsa" to promote Religious Harmony and Universal Brotherhood in the World. The Ashram is the second most important place for the followers of Swami Vivekananda after Kolkata. Regular prayers, worships, meditation and religious discourses are held in the Universal Sri Ramakrishna Temple (Jagat Mandir). Ashram is also involved in Rural Development and Relief, Rehabilitation, Educational, Spiritual and Cultural work and is equipped with a Publication Department and has published many books on Ramakrishna and also has a on site Book Shop. A full fledged Library is also there in the premises with a Reading Room. Ashram is situated along Dr. Yagnik Road, a modern shopping hub.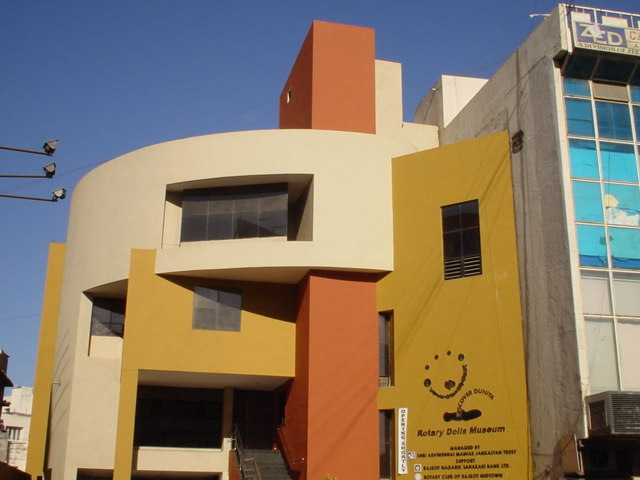 Proceed further to The Rotary Midtown Dolls Museum, (Closed on Monday and in Afternoons) situated along Dr. Yagnik Road. This Museum has a great exhibit of more than 1400 Dolls from all over the World and provides insight to varied Culture, Environment, Attire and Festivals of the World. The striking feature is the Dolls from African Sub continent where you will wonder that the Dolls can be a Negro. Most of the Dolls in this Museum have been donated to the place by Rotary Clubs from across 93 Countries around the world. The idea of this Museum was conceived by Rtn. Deepak Aggarwal in the year 2001 with a view to provide Children a place, where they could gain valuable knowledge of the World by mode of fun and entertainment. Museum is equipped with a Theater where in knowledgeable movies are screened from National Geographic Channel, Discovery Channel, Britannica along with other educational CD's. Also installed are touch screen Kiosks for Museum information.
Take a panoramic tour of Race Course Garden which is a hub of activities for Rajkotians and has host of activities like Fun World Children Park, an International Standard Cricket Stadium, Swimming pool, Landscaped Garden, Jogging Track, Indoor Athletic Stadium and Children Activity Centre. Arrive at Swaminarayan Temple along Kalawad Road. This road again is a shopping hub.
Take a Lunch Break at your own Cost at a City Restaurant and at 03.00 pm, you will be dropped off at local Bazzar in town centre for shopping on your own. Visit various Gold and Silver Smiths at Soni Bazar to see and buy the traditional and modern jewelry. Also along this market you can buy various traditional Clothes at shops near by.
At 06.00 pm, assemble at the designated point in town centre and you will be transferred to Chouki Dhani Restaurant for a live Cultural program and traditional Vegetarian Dinner. While waiting for your freshly prepared Vegetarian Dinner to be cooked and served ( about 25 - 30 minutes), you will enjoy Cultural performances like Folk Dances and Puppet Shown in the open-air entertainment area. Savor a typical traditional dinner served on a plate with option of seat on the Ground and served on a Thali (Dish) place on the small Bajoth (Small Wooden Table). You will be surrounded by a village – like atmosphere with the servers dressed in traditional Kathiawari attire. When Dinner is finished at about 10.00 pm, you will be transferred back to your respective Hotels.
End of Services.